North Cikulon Province
North Cikulon Province




Provinsi Cikulon Utara

—  Province  —

Location of North Cikulon Province
Country
Karasem
Island
Cikulon Island
Capital
Meriah
Government
 • Governor
Slamet Yuda Setiawan
 • Vice Governor
Cahyo Lesmono
Area
 • Total
18,748 km2 (7,200 sq mi)
Area rank
12th
Population (2010)
 • Total
30,248,201
 • Rank
1st
 • Density
1,613/km2 (4,200/sq mi)
Time zone
Karasem Time (UTC+7)
Flower
Orchidaceae
Tree
Ficus benjamina
Website
www.provcikulonutara.go.kr
North Cikulon (Karaseman Malay: Cikulon Utara) is a province of Karasem located in the northern part of Cikulon Island. It is the largest province in Karasem on population term and 7th on land size. The capital and largest city is Meriah which also the largest city in Karasem.
History
North Cikulon province was formed in 1963 after the split of Cikulon Province with the capital located in Malang Bawah.
North Cikulon merged with Meriah Special Capital Region in 1964 when national capital was moved to Cibebek Province and its capital moved into the current capital Meriah. With the merge of Meriah as the part of North Cikulon, its population increased by 3.1 millions from 17 into 20 millions at that time.
Since 2011, proposal made to form the new Metropolis Province consisting of Meriah-Muara Karang metropolitan area in order to utilize the development of Meriah specifically outside the North Cikulon province. Until September 2015, the proposal have not passed the national assembly by the legislature since the study currently being conducted.
Geography
North Cikulon located in northern part of Cikulon Island, Karasem, shares its borders with Cibebek Province in east, Central Cikulon Province in south, Eastern Malacca Strait in north, Bintan Island and Singapore in west.
Northwestern part of province consisting of Meriah and Muara Karang Metropolitan area are heavily urbanized and populated while southeastern and central part of province are less populated and consist of national parks. Malang Bawah Regency and Malang Bawah City located in southwestern part of the province is the secondary urban area of the province.
Topography
Western and northern part of province consist of lowlands plains and several peatlands, while the central part of province consist of Cikulon Highlands which is mountainous. Highest point of the province located within Mountain Bukitperak located in Malang Atas Regency sitting at 2,804 meters above sea level.
Peatlands in the province consist of Tanjung Bakau in the northwestern of Meriah, Melabu Peninsula in western part of Malang Bawah Regency and most of eastern part of Kemuning Timur Regency.
Administrative Divisions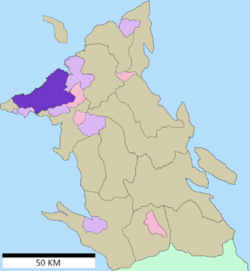 North Cikulon consist of 12 Regencies, 4 Cities, and 7 Muncipal Cities. Regencies of Cikulon:
Cities of Cikulon:
Muncipal Cities of Cikulon:
Mergers and Splits
In 1964, Meriah merged into North Cikulon from its own special capital region
In 1968, Sukamulya seperated from Meriah Regency
In 1975, Trimurjo Regency split into Trimurjo and Cibengkok Regency, while Malang Regency split into Malang Atas and Malang Bawah Regency, Bojong Regency and Ciletuh Regency splited from Kemuning Barat Regency
In 1983, Batusari City seperated from Malang Atas Regency, Jatibening seperated from Meriah Regency
In 1985, Muara Karang seperated from Meriah Regency
In 1993, Kota Barat, Serdang, and Babakan seperated from Meriah Regency
In 2006, Cisaat city seperated from Trimurjo Regency
Demographic
With population 30 millions people in 2010, North Cikulon ranked 46th in world most populated country subdivision.
Transportation
Economy
Culture and Education